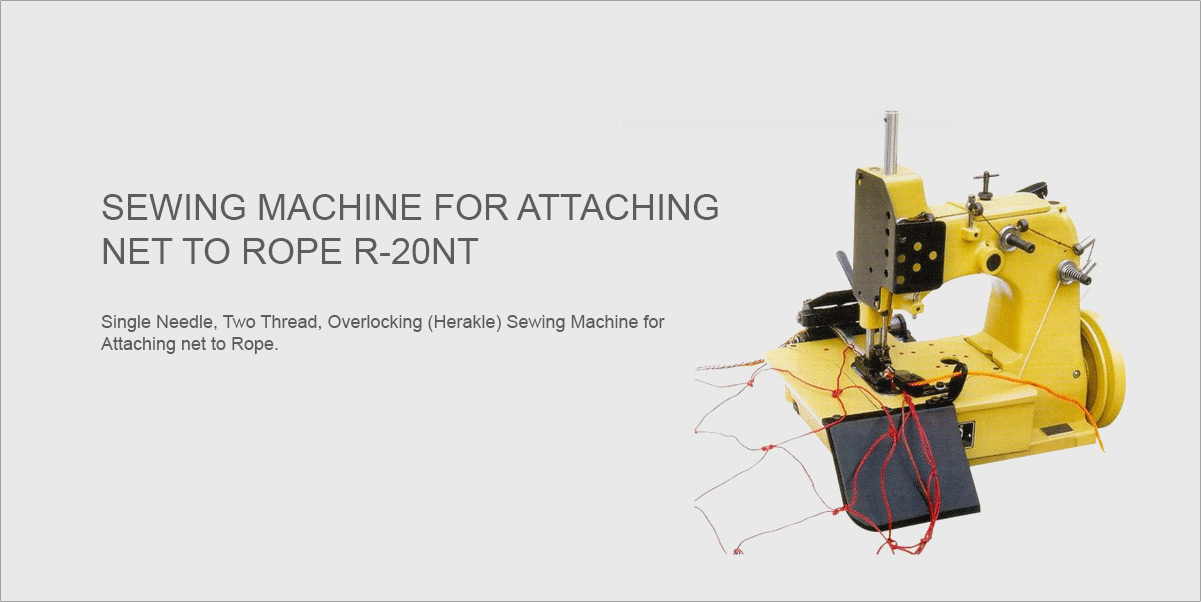 Sewing Machine for Attaching Net to Rope R-20NT
Single Needle, Two Thread, Overlocking (Herakle) Sewing Machine for Attaching net to Rope. Also Available in Single Needle, Three Thread, Overlock Sewing Machine Configuration Model R-20NT.
SEWING SPEED
Efficient production: Maximum sewing speed
DIMENSIONS
12in. H x 12in. W x 13in. D (30 cm x 30 cm x 33 cm)
STITCH LENGTH
3.5 stitches/inch (25.4mm) Fixed
MAXIMUM MATERIAL THICKNESS
10mm
CUTTER TYPE
Mechanical
THREAD
8oz. Cotton or Synthetic thread cones.
NEEDLE SIZE
DB X 1 130/21 Organ
POWER REQUIREMENTS
AC/DC Motor: 1/10 Hp 8000 rpm 220V, 1.3 amps
WEIGHT  
6 kg.
TYPE OF STITCH
Single thread/chain stitch
CLOSING-SPEED
5 – 8 sec/bag, 39 fpm at 3.5 stitches/inch (25.4mm)
TYPES OF BAGS
All kinds of multi-wall paper, kraft-paper, burlap, cotton, PP/PE, Hessian, woven polyester, jute bags etc.
LUBRICANT
For extended lubrication and wear, use SAE 30 Oil