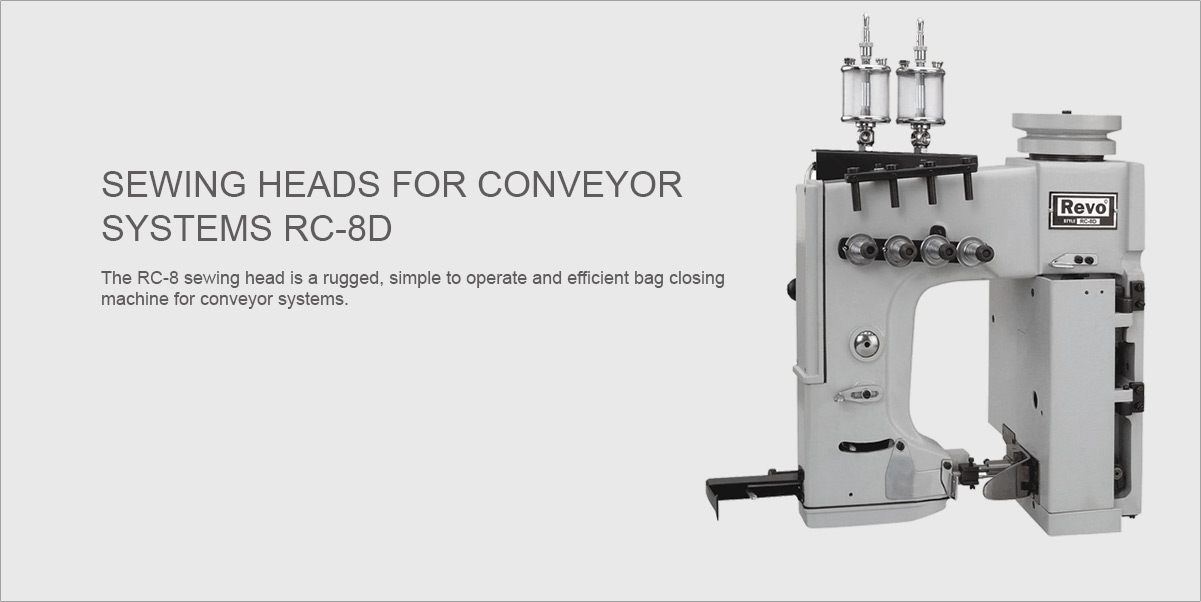 RC-8D – Twin needle, four thread, parallel double chain-stitch sewing head
The RC-8 sewing head is a rugged, simple to operate and efficient bag closing machine for conveyor systems. Simple mechanism for adjusting the stitch length from 5 mm to 9 mm makes the RC-8 ideal for stitching filled bags of all kinds of HDPE, PP, Jute, Hessian and various types of kraft-wall paper bags with synthetics or cotton thread.
The moving parts inside the machine are sealed against dirt and dust particles to ensure less maintenance is required than conventional conveyor bag closing sewing heads. It is used for closing mouths of bags filled with fertilizers, sugar, rice, flour, cattle feed etc. The mechanical cutter is available as standard in both the RC-8 models which helps severs the thread chain with ease after the bag has been securely stitched.
The RC-8 sewing head is available with a wide choice of slat or belt conveyor systems in various lengths. Conveyors can also be custom manufactured to different specified lengths. The machine also has provision of a variable speed pulley allows synchronization with existing conveyor systems.
NUMBER OF NEEDLES
Twin needle
SEAM
Four thread, parallel double chain-stitch seam
DISTANCE BETWEEN NEEDLES
6mm
POWER REQUIRED
500W, 3 Phase electric motor
MACHINE WEIGHT
40 kgs
NEEDLE SIZE
GB 200 , 230 , 250 – Groz-Beckert
THREAD
Cotton or Synthetics
BAG STITCHING SPEED
500 – 600 Bags per hour
LUBRICATION
Manual oil feed for internal oiling lines system