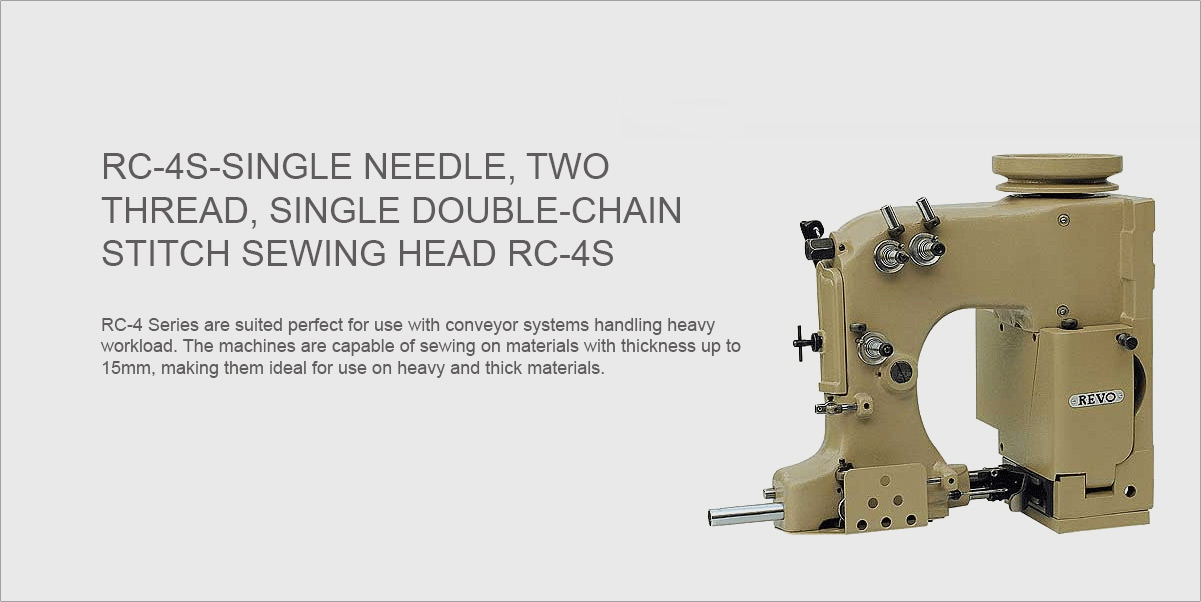 Revo® RC-4 Series are suited perfect for use with conveyor systems handling heavy workload. The machines are capable of sewing on materials with thickness up to 15mm, making them ideal for use on heavy and thick materials. Revo® RC-4S Series can stitch on all types of bag material such as Jute, Woven HDPE, PP and kraft-wall paper bags.Durable construction of Revo® RC-4S Series offers reliable performance for years. The oil reservoir provides continuous lubrication to the moving parts inside the machine, ensuring minimum downtime. Sharp mechanical cutters are standard in the Revo® RC-4S Series to cut the thread chain after the bag has been securely stitched.
SEWING SPEED
2100 stitches per minute
NEEDLE
RW-S-Single Double-Chain Stitch
RW-D-Twin Parallel Double-Chain Stitch
STITCH WIDTH 
5 to 9mm (adjustable)
MAXIMUM MATERIAL THICKNESS
15mm
THREAD
Cotton or Synthetic
THREAD CONE PRICE
1 USD to 1.50 USD
POWER REQUIREMENTS
1 hp, 3 phase, 2800rpm electric motor
WEIGHT
40 Kg.
TYPE OF STITCH
RW-S- Single Double-Chain Stitch
RW-D- Twin Prallel Double-Chain Stitch
THREAD CUTTER
In-built mechanical thread cutter
LUBRICANT
Oil reservoir system with internal oil lines
CREPE-TAPE ROLL PRICE
1 USD to 2 USD