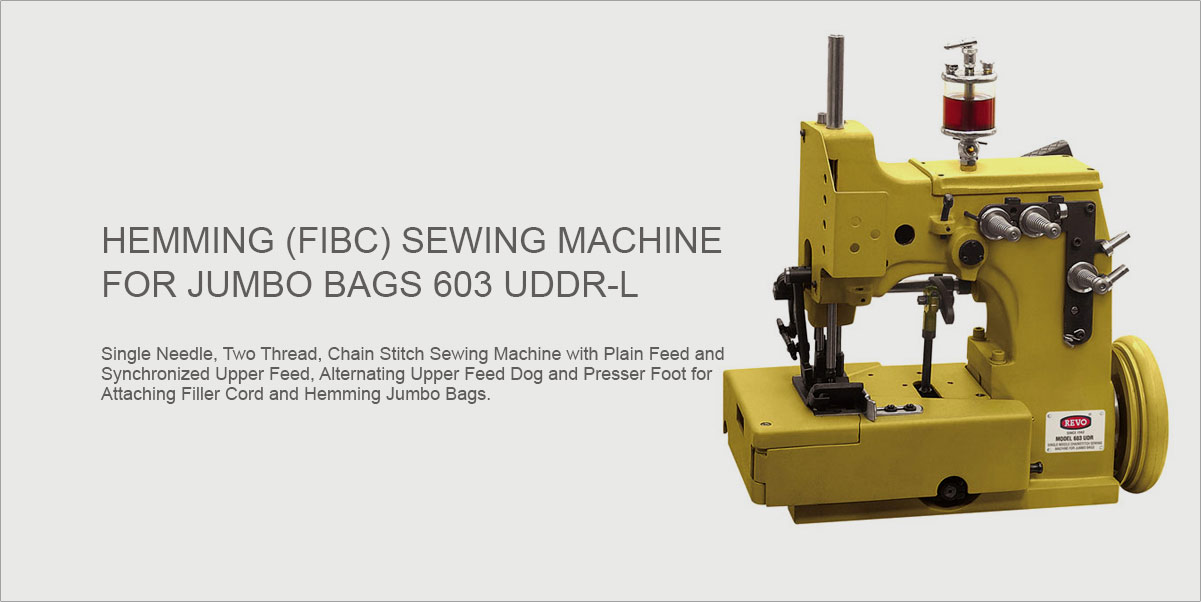 Revo ® Hemming (FIBC) Sewing Machine for Jumbo bags 603 UDDR-L
Single Needle, Two Thread, Chain Stitch Sewing Machine with Plain Feed and Synchronized Upper Feed, Alternating Upper Feed Dog and Presser Foot for Attaching Filler Cord and Hemming Jumbo Bags.
SEWING SPEED 
1800 rpm depending on material
STITCH LENGTH
6mm to 13mm
SEWING CAPACITY
Up to 15mm
NO. OF THREAD
4
NO. OF NEEDLES
2
NEEDLE SIZE
UY9848GS 29/120 (Schmetz)
THREAD TYPE
Multi Filament, Fabricated Yarn
LUBRICATION
Automatic using gear pump
MOTOR
1HP, 1 or 3 phase, 1425 – 2850 rpm
MACHINE WEIGHT
40 kg.
WORKING SPEED
1600 rpm depending on sewing material
STITCH RANGE
6mm to 13mm
NEEDLE SIZE
UY9848GS 29/120 (Schmetz)
TYPE OF THREAD
Multi Filament, Fabricated Yarn
MOTOR
1HP, 1 or 3 Phase 1425 or 2850 rpm