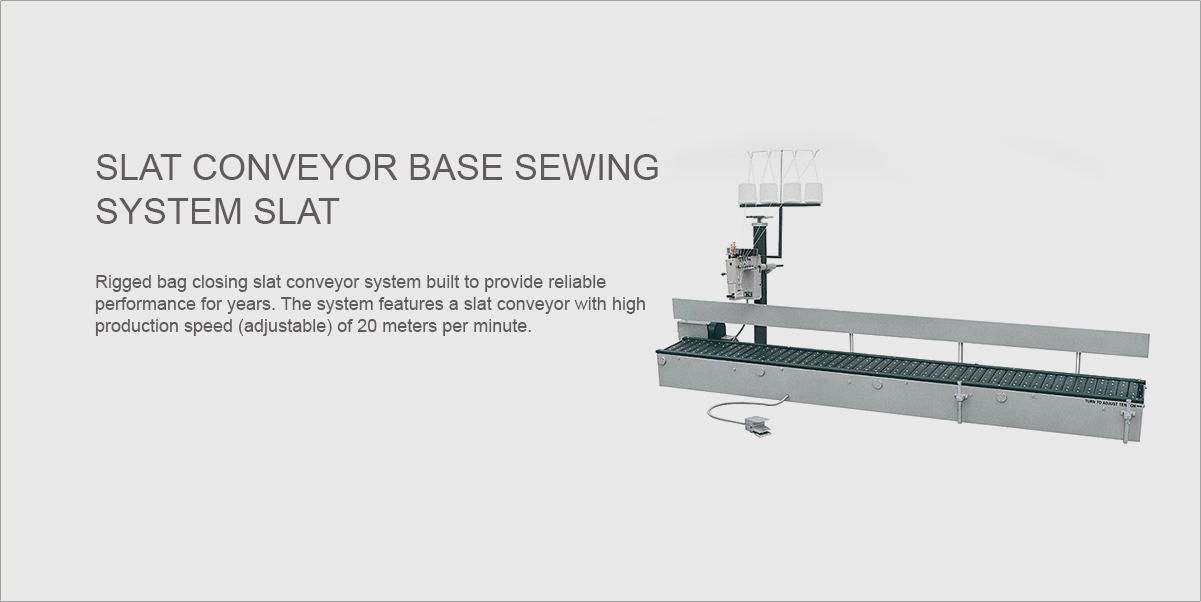 Revo® presents a rigged bag closing slat conveyor system built to provide reliable performance for years. The system features a slat conveyor with high production speed (adjustable) of 20 meters per minute.
The counter weight inside the pillar ensures minimum stress on operator when using the wheel to adjust height of the sewing head from 200mm up to 1000mm. Low speed electric motor (940rpm, 3 phase) for operating the slat conveyor produces enough pulling power to carry severl number of filled bags placed on conveyor at the same time with minimum effort. Low ratio gearbox consisting of accurately machined and hardened gears, is immersed in high grade gear oil for minimum operation noise and smooth running.
Revo® SLAT Conveyor system is also available with specifications as given by the customer.
2 metre slat conveyor
3 meter slat conveyor
4 meter slat conveyor
5 meter slat conveyor
6 meter slat conveyor
CONVEYOR 
Slat Type
AVAILABLE CONVEYOR LENGHT
3, 4, 5, 10 meters or as specified
SEWING HEAD HEIGHT ADJUSTMENT 
100mm to 1000mm
TRAVEL SPEED
6 to 20 meters per minute (adjustable)
AVAILABLE BELT WIDTH 
300, 350, 400, 450, 500mm or as specified
CONVEYOR MOTOR
1 hp, 3 phase, 940rpm electric motor