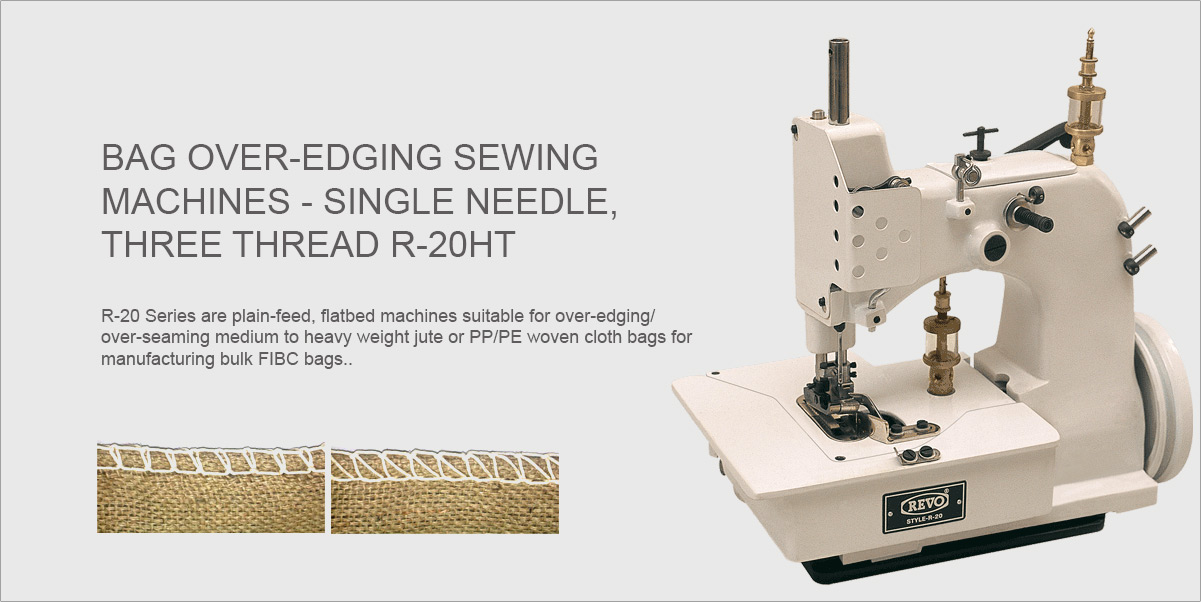 Revo® Bag Over-edging Sewing Machines – Single Needle, Three Thread R-20HT
Revo® R-20 Series are plain-feed, flatbed machines suitable for over-edging/ over-seaming medium to heavy weight jute or PP/PE woven cloth bags for manufacturing bulk FIBC bags. The over-seam width can be varied from 10 to 15mm with replacement of some parts. The wide over-seam width of 15mm increases the overall seam strength and is ideal for making jumbo bags. Special Heavy Duty Machine for sewing on thick material.
MAXIMUM SPEED
2100 stitches per minute
SEAM TYPE
Two Thread over-seaming stitch
STITCH RANGE
7mm to 15mm
MATERIAL THICKNESS
Up to 15mm
POWER REQUIRED
500 W, 2800 rpm integral clutch single or three phase motor
WORKING SPEED
300 to 400 bags per hour (Bag size 30″ to 40″)
SEAM WIDTH
10mm or 15mm (Change of some parts required)
NEEDLE SIZE
DR X 4 32 Organ
THREAD
Jute, synthetic or cotton (10/3)
MACHINE WEIGHT
40 kg.