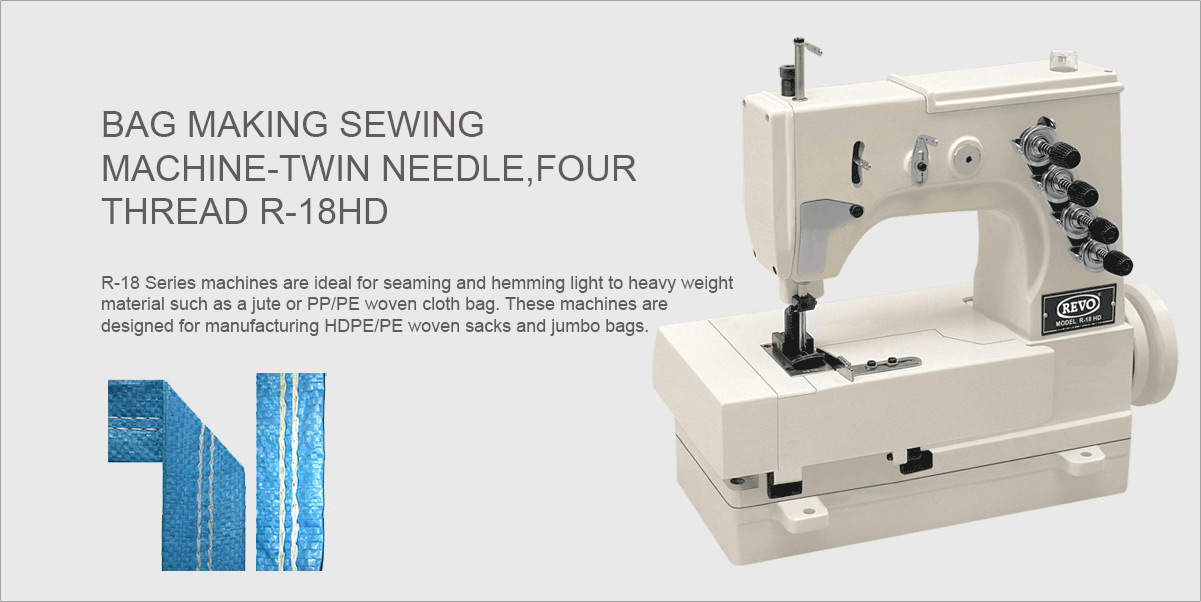 Revo® R-18 Series machines are ideal for seaming and hemming light to heavy weight material such as a jute or PP/PE woven cloth bag. These machines are designed for manufacturing HDPE/PE woven sacks and jumbo bags. The completely automatic and totally enclosed lubrication system in the R-18 machines operates using a force-fed gear pump and a pressure regulating valve. The oil lines from the pump direct the lubricant to the main moving parts and on return, the oil is efficiently recycled and pumped back into the system. Simple working of the R-18 Series allows the operator to achieve faster and better production with less downtime
Following are the features and benefits of Revo® bag making sewing machine:
Stitch length : Distance between two stitches can be varied by replacing some of the machine parts.
No Bobbin : This feature of R-18 Series makes it ideal for environments where quality high production is fundamental.
Lubrication : Oil pump lubrication with oil recycling system ensures long life of machine requiring minimum maintenance.
Reinforced mechanism : Wide presser foot resists lift, keeping thick bags aligned for a smooth, even and better looking stitch.
Stitch length : Length of stitch in Revo® R-18 Series can be regulated with ease.
Stitch width : Width of stitch is adjustable by replacing some of the machine parts.
Stitch variation : Single thread chain stitch is available by replacing some parts
Tape : Any type of cotton or synthetic yarn and plastic tape can be attached and used with an optional tape attaching folder.
MAXIMUM SPEED
3500 Stitches per minute
STITCH LENGTH
10 to 16 stitches per 100mm (variable)
MAXIMUM THICKNESS OF SEWING MATERIAL
Up to 10mm
KIND OF MATERIAL
All types of woven sacks, Hessian and multi-wall paper bags.
POWER REQUIRED
500W, 2800 rpm single phase clutch motor
SEAM
Two parallel, each two-thread chain-stitch seams. (2 needles, 2 loopers, 4 thread)
DISTANCE BETWEEN TWO SEAMS
6mm
LUBRICATION
Complete oil pump lubrication with oil recycling system
NEEDLE SIZE
For cotton thread: DN × 1 200/25 Schmetz
For plastic thread: DN x 1 230/26 Schmetz~THREAD~HDPE or synthetic/cotton
MACHINE WEIGHT
35 kg.